How Tracking Water Matters for Climate Change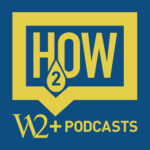 From the Alliance for Global Water Adaptation (AGWA), water experts Kelsey Harpham and Mario Lopez talk us through how ambitious goals like the Paris Agreement develop at climate conferences and what it actually means to meet these agreements. Kelsey describes the importance of national climate plans, nationally determined contributions, and the balance of climate vs water and mitigation vs adaptation. Kelsey and Mario also introduce us to the Water Tracker, a tool for countries to develop national plans that checks if water is actually being coordinated for. But what happens when receiving government officials are skeptical of the tool? How can the Water Tracker identify projects, and what makes a project "bankable"?
Kelsey Harpham is the Project Manager for the Water Tracker for National Climate Plans at the AGWA. The Water Tracker is an initiative to help countries self-assess and enhance water resilience in their national climate planning. Kelsey has an interdisciplinary background in water and has guided teams of international and national experts on collaborative watershed management, disaster risk reduction, and bottom-up approaches for climate resilient infrastructure. Her work is being adopted by national and local level governments in Nepal, Vietnam, Sri Lanka, Indonesia, and elsewhere.
Mario Lopez is a long-term water consultant with AGWA. He brings over 40 years of experience in water management with expertise in climate change, water rights, nature-based solutions, transboundary management, and the water-energy nexus. He has served as a World Bank Consultant for the MENA Region and held posts at The Nature Conservancy, World Wildlife Fund Perú, and elsewhere.
AGWA: https://www.alliance4water.org/
The HOW: Channeling Water Solutions is produced by W12+ Programs, co-jointly run by the Institute for Ecological Civilization and SOSNPO.
www.ecociv.org
www.soscpt.org
Editor: Austin Roberts
Please follow and like us: