EcoCiv at the 7th California, Climate & Agriculture (CalCAN) Summit
Across the U.S., collaborative partnerships are being built on the belief that long-term land tenure is key to food security and climate justice. As new land tenure strategies based on this belief are emerging, there is a need for collaborative networks of new entry farmers, service providers, researchers, nonprofits, and government agencies to support these experiments with science-based evidence that these new land tenure models are effective in meeting new entry farmers' socio-economic goals and the communities' climate resilience goals. 
EcoCiv is motivated to support our local partners in Pomona, CA—Lopez Urban Farm, Community Partners 4 Innovation, Latino/Latina Roundtable, Wellbeing Economies Alliance of California—as they work towards realizing their vision of long-term land tenure for regenerative urban agriculture while we work on prompt scaling and replication of these important and progressive solutions. This is currently a priority project EcoCiv is seeking funding for.
This past November, Dr. Kate Munden-Dixon, Program Manager of EcoCiv's Agrifood Systems (AFS) Program, was invited to present at the 7th Annual California Climate & Agriculture (CalCAN) Summit in Davis, CA. Dr. Munden-Dixon presented on an emerging AFS project focused on the importance of long-term land security as a climate change strategy and key for the scaling of regenerative agriculture. This is a global issue facing many countries that calls for notable solutions that are both replicable and scalable.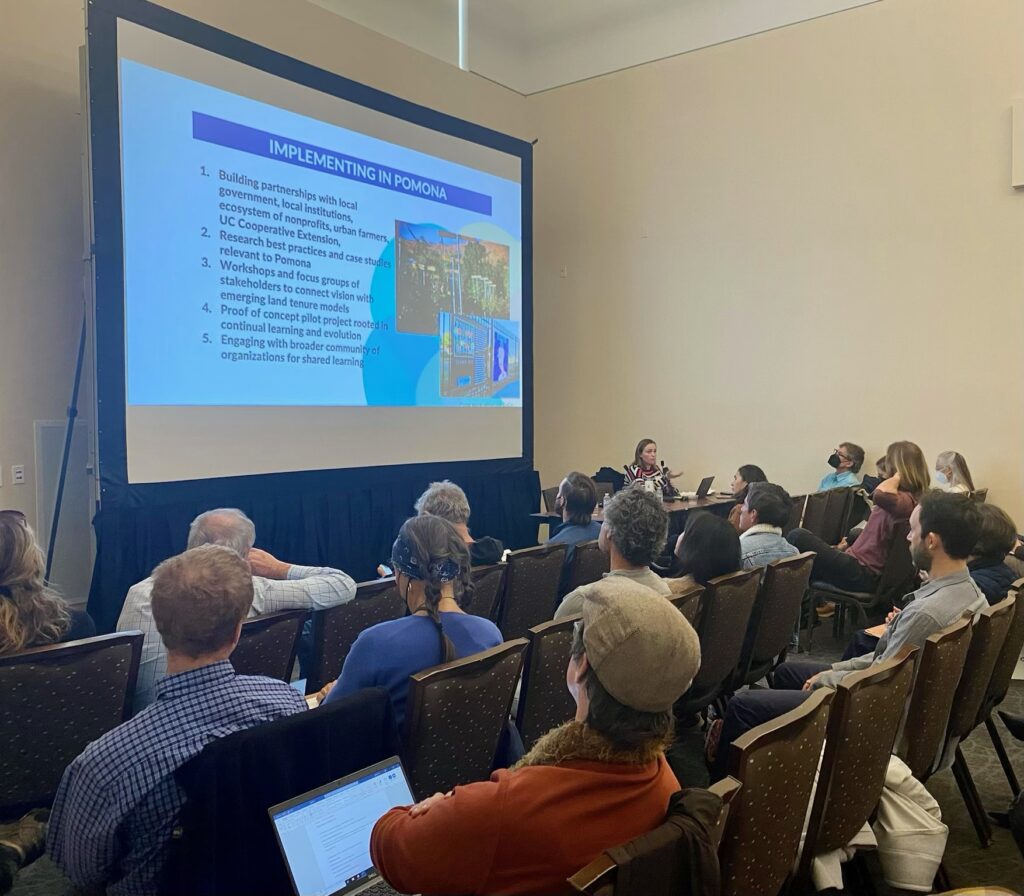 CalCAN is a coalition of sustainable and organic farming organizations that advocate state and federal policies to ensure the resilience of California farms and ranches in the face of climate change. The 7th CalCAN Summit was a two-day event featuring farm tours and presentations from over 50 speakers in 15 workshop sessions.
Land tenure as a climate strategy
Supporting new entry farmers using regenerative agriculture practices is key to ensuring the future of climate resilient agriculture. A multitude of government programs and policies exist to support these farmers through grower education, increased capital and land access, and farmer networks. However, a critical component for the retention and success of new farmers practicing regenerative agriculture is not solely land access, but long-term land tenure that gives farmers a return on their investment of time, capital, and physical energy. 
Effective regenerative agriculture practices, which are necessary to enrich soils, build biodiversity, and sequester carbon, require long-term investments, so these practices are incompatible with short-term land tenure options available to new farmers. In California, available land has become highly capitalized, fragmented, and degraded as it is highly valued for a multiplicity of uses beyond regenerative agriculture. The prohibitively high cost of land eliminates the ability of  individual new entry farmers from purchasing suitable land. Innovative models centered on long-term land tenure are needed to support a realistic pathway for the expansion of regenerative agriculture.
Land tenure solutions
New entry farmers, nonprofits, and government agencies are developing creative strategies to secure long-term land access for regenerative agriculture. From networks of urban farms in Atlanta, GA and Pomona, CA to Hawaii's Agricultural Parks Program, there is an expanding movement to rethink land tenure around models adapted to supporting regenerative agriculture, new entry farmers, and climate resilience. 
Nonprofits and grower collectives
One model practiced across the U.S. involves nonprofits acting as umbrella organizations so that independent farmers as well as grower collectives can come together to farm and market their food collectively. Land is acquired through conservation land trusts, donations, fundraising, and institutions who agree to long-term leases. As one may imagine, the land acquisitions and access to these types of arrangements are heavily dependent on strong community partners and connections. However, these arrangements often provide heavily subsidized land to farmers, so, unlike traditional incubator farms, they foster a transition towards the model of farmers staying on this land in perpetuity.
One such example is Global Growers Network, a nonprofit in Atlanta, GA focused on "building and supporting networks of growers, land, resources, and markets in order to create a more equitable food system that is driven by cultural diversity, inclusive economies, and regenerative agriculture practices."  Global Growers Network recently partnered  with the Conservation Fund's Working Farms Fund to enter into a 3-year lease-to-own agreement that will allow their new entry, resettled refugee farmers to cooperatively farm and steward the land in perpetuity. 
 To learn more about our work, please contact Programs Director, Ellie Leaning at eleaning@ecociv.org.
Please follow and like us: