Learning for Impact Initiative Launch
EcoCiv has recently launched a new initiative, Learning for Impact (LFI). This initiative represents an intentional effort on EcoCiv's part to become a "learning organization". Sitting within the IDEAS Hub, it is linked closely with the organization's Monitoring, Evaluation, and Learning (MEL) team, but it aims to approach the MEL process in a holistic sense. LFI can be visualized as an infinity symbol, as it seeks to establish an iterative process where theories, knowledge, hypotheses, and processes are evaluated to inform and improve EcoCiv's programs. This process functions as a feedback loop where projects and programs improve our understanding of theories, external knowledge, and hypotheses and vice-versa.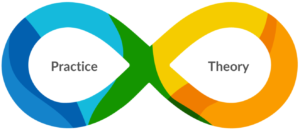 Our working definition of Learning for Impact (LFI) is "the process and culture through which we continually assess our work, learn from others, and modify our work to reflect new knowledge, ultimately striving to make the most positive impact possible". 
This initiative allows for continuous growth, exchange and improvement of learning internally across our staff and externally with our partners. It allows us to focus clearly on the impact of our work as we strive for efficiency, effectiveness, and equity across all of our program areas.
Learning:
Learning is far from being a new concept. In for-profits organizations, learning is incorporated into business models that seek innovation and improvement. For nonprofits, however, learning is typically placed at the end of monitoring and evaluation. 
At EcoCiv, we consider learning as a more nuanced and holistic approach to knowledge management and application. We recognize that learning is more than being knowledgeable, as it also involves the effective application and distribution of that knowledge to the individuals and communities who will most benefit from it. Learning acts as the framework through which all of our programs generate impactful results.
EcoCiv's Work:
LFI uses organizational learning as a way to capture, evaluate, and improve our programs from both theoretical and practical perspectives. Learning should be prioritized from the beginning of a program and throughout its lifecycle. It allows us to critically assess our program methodology to examine if our programs meet our mission and to generate ideas for improvement. It also allows us to evaluate whether we are truly living up to the ideal of applying interventions that prioritize organizational values and priorities, like localization. 
This initiative is in the midst of establishing our own answer to the following question: How can we apply our learnings and insights throughout the organization and across its programs? We aim to prioritize assessing and improving common threads (strategies or tactics) across our programs.
As of the publishing date of this blog post, the LFI team is in the process of launching a cross organizational assessment of EcoCiv's unique "Visioning Backcasting Roadmapping" (VBR) methodology. We are also launching more opportunities for internal knowledge sharing and reflection to enhance the structures for organizational memory, as we aim to conduct more comprehensive and holistic evaluations of project works that go beyond grant requirements. 
If our LFI work is something that you are interested in, please reach out to Grace Okafor at gokafor@ecociv.org or Ellie Leaning at eleaning@ecociv.org. 
Written by: Juliana Arnold
EcoCiv's Communications and Writing Assistant
Please follow and like us: