Episode 4: Vanessa Arelle: Sustainable Solutions for the Digital Divide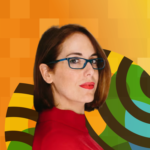 You can also listen to this episode on Spotify and Apple Podcasts.
Wireless infrastructure remains a crucial barrier in bridging the technological and digital divide in the developing world. With climate change introducing new challenges, we're faced with the question of how to resolve climate issues and issues around access and equity at the same time. Grace Okafor chats with Vanessa Arelle, Chief Strategy Officer of StreamSpot+ by BuffaloGrid on how the organization is working to expand innovative technology to underserved communities. Their discussion delves into how StreamSpot+ is integrating sustainable technologies that increase access to education.
We bring you today's episode in partnership with Reboot the Future, a British charity committed to the principles of the Golden Rule — treat others and the planet as you would wish to be treated. The focus of this episode, along with others in this series, is to explore the visions for a Life Economy which American author, John Perkins, describes as a framework that maximizes long-term benefits for all life and the environment.
Each episode of this podcast will explore core values that support a Life Economy with leaders across a range of areas in business and the private sector and how they can activate collective corporate or global leadership action.
Music Credit: "02 Progress" by Ketsa
Please follow and like us: