Episode 1: Anthony Akerman: The Mission to Decarbonize the Global Supply Chain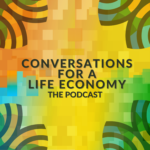 You can also listen to this episode on Spofify and Apple Podcasts.

Around the world, carbon generated from transporting food and other goods continues to threaten and exacerbate the current climate crisis. Philip Clayton talks with Anthony Akerman, Client Key Manager at the Danish shipping company A.P Moller Maersk, about the need to decarbonize transportation within the supply chain. Their discussion investigates different methods such as the use of biofuels and other new technologies.
We bring you today's episode in partnership with Reboot the Future, a British charity committed to the principles of the Golden Rule — treat others and the planet as you would wish to be treated. The focus of this episode, along with others in this series, is to explore the visions for a Life Economy which American author, John Perkins, describes as a framework that maximizes long-term benefits for all life and the environment.
Each episode of this podcast will explore core values that support a Life Economy with leaders across a range of areas in business and the private sector and how they can activate collective corporate or global leadership action.
Correction: The correct title of the book stated in this episode is 'Net Positive: How Courageous Companies Thrive by Giving More Than They Take' by Paul Polman and Andrew Winston.
Music Credit: "02 Progress" by Ketsa
Please follow and like us: