Episode 2: Andy Samuel: Rethinking Energy Systems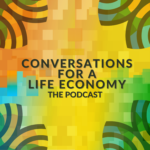 You can also listen to this episode on Spotify and Apple Podcasts.
Oil and gas remains the world's most used source of energy. With the majority of developed countries utilizing fossil fuels and developing countries rapidly catching up, the need to move to alternative energy resources is becoming dire. Philip Clayton talks with Andy Samuel, Chief Executive of the U.K.'s Oil and Gas Authority about how the U.K is working towards the North Sea Transition deal and other carbon abatement energy solutions. Their discussion investigates how current models operate and how it could be replicated in other nations.
We bring you today's episode in partnership with Reboot the Future, a British charity committed to the principles of the Golden Rule — treat others and the planet as you would wish to be treated. The focus of this episode, along with others in this series, is to explore the visions for a Life Economy which American author, John Perkins, describes as a framework that maximizes long-term benefits for all life and the environment.
Each episode of this podcast will explore core values that support a Life Economy with leaders across a range of areas in business and the private sector and how they can activate collective corporate or global leadership action.
Note: The Oil and Gas Authority was renamed to the North Sea Transition Authority (NSTA) on March 21st 2022. Please note that the Oil and Gas Authority(OGA) name is mentioned throughout this episode as the recording took place prior to the name change.
Music Credit: "02 Progress" by Ketsa
Please follow and like us: