Episode #45: Riane Eisler: A Partnership Paradigm for Ecological Civilization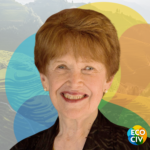 You can also listen to this episode on Spotify and Apple Podcasts.
Andrew Schwartz speaks with Riane Eisler. Dr. Eisler is a social systems scientist, cultural historian, futurist, and attorney whose research, writing, and speaking has transformed the lives of people worldwide. Internationally known for her bestseller The Chalice and The Blade: Our History, Our Future, and for her book on economics, The Real Wealth of Nations: Creating a Caring Economics, her newest work, Nurturing Our Humanity: How Domination and Partnership Shape Our Brains, Lives, and Future, co-authored with anthropologist Douglas Fry, shows how to construct a more equitable, sustainable, and less violent world based on Partnership rather than Domination.
Music Credit: "lax" by Fascinating Earthbound Objects
License//Song Link
Please follow and like us: