Episode #44: Conservation Careers with Anna Hixson and Nick Askew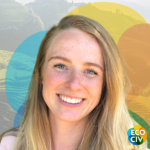 You can also listen to this episode on Spotify and Apple Podcasts.
In this episode, we are sharing a podcast interview from the Conservation Careers podcast where Nick Askew, Founder and Director of Conservation Careers, and Anna Hixson, EcoCiv's Associate Director, Projects and Foundation Relations, talk about the biggest challenges facing us as a global society, how to rebuild and transform economic systems in favor of human and ecological wellbeing, and offer advice for aspiring conservationists on how to get the ideal conservation job. 
Conservation Careers is the number one advice center for conservationists, helping 700,000 conservationists in 178 countries across the globe. They offer a conservation job board, career advice, training, and courses to help conservationists achieve career success.
Music Credit: "lax" by Fascinating Earthbound Objects
License//Song Link
Please follow and like us: