Episode #49: Big Picture Thinking for an Ecological Civilization, with David Stroh & Marilyn Paul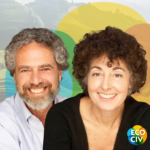 Andrew Schwartz speaks with David Stroh and Dr. Marilyn Paul. David is Founder & Principal of Bridgeway Partners. David is the author of the best-selling book Systems Thinking for Social Change: A Practical Guide to Solving Complex Problems, Avoiding Unintended Consequences, and Achieving Lasting Results. David co-founded one of the first firms to apply systems thinking to learning organizations. He was also a National Science Foundation Fellow at MIT, where he earned an M.A. in City Planning. Marilyn is Co-founder & Principal of Bridgeway Partners. She earned her Ph.D. from the Yale School of Organization and Management and an M.B.A. from Cornell. She has served on faculties at Yale Medical School, Colby College, and Hebrew University of Public Health. She is the author of two books, An Oasis in Time and It's Hard to Make a Difference When You Can't Find Your Keys, with a third book on the way tentatively titled "It's Hard to Save the Planet When You Don't Know What to Do." Marilyn's work focuses on helping people integrate big-picture thinking into daily behaviors and habits, while David's tends to emphasize moving from immediate experience to big-picture thinking. Both approaches are vital to the deep transformation required to build a genuinely ecological civilization, which is the focus of the conversation today.
You can also listen to this episode on Spotify and Apple Podcasts.
Please follow and like us: