Interfaith Climate Change Statement to World Leaders
The following post originated from GreenFaith (4-20-16)
—–
'We are people of faith. We are also people of hope.'
I heard those words Monday, as the names of over 270 high-level faith leaders – including the Dalai Lama and the President of the World Council of Churches – and thousands of people of faith were presented to the President of the United Nations General Assembly in New York, supporting the Interfaith Climate Change Statement to World Leaders.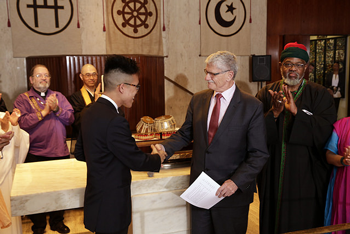 I hope you'll sign the statement today.
GreenFaith organized the handover ceremony. We partnered with diverse faith groups around the world to develop the statement.
Days like today give me real hope. I saw faith leaders from many creeds and from around the world come together.
I also saw that world leaders were listening.
The French Permanent Representative to the UN made it clear that people of faith played a vital role in making the Paris Agreement possible.
The Deputy Permanent Representative to the UN of Morocco, where the next round of climate talks will happen, agreed.
The President of the UN General Assembly said that "religions can be a catalyst for common action."
A representative of the UN Framework Convention on Climate Change Secretariat said that "religion has always been the foundation of civilization."
It is also clear that our work is not done.
We need to keep praying, advocating and acting.  Pressing for change and bringing people hope. The way ahead will not be easy. We have much work to do. We will not make it without hope and faith.
If you already signed this statement – thank you so much for lending your voice. If you have not yet signed – now is the time.
Plans are building for our next step – a day of faith climate action on June 12 called Sacred Earth, Sacred Trust. I look forward to sharing more with you on this soon.
Yours with faith and hope,
Rev. Fletcher Harper
Executive Director
P.S. Please make a contribution today to support GreenFaith's work.
Please follow and like us: