12th International Whitehead Conference: Process as Creativity–Process as Concern
August 27, 2019

-

August 30, 2019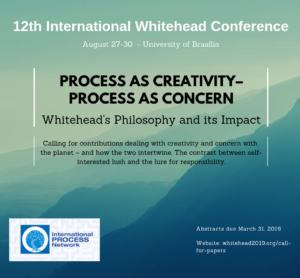 Taking place on the beautiful campus of the University of Brasilia in Brasilia, Brazil, the 12th International Whitehead Conference will address of creativity and concern in the framework of broader discussions of Whitehead's philosophy and its impact. Following from the 11th IWC which focused on Nature in Process, this conference will welcome contributions dealing with creativity and concern with the planet – and how the two intertwine. In general, the focus is the contrast between self-interested lush and the lure for responsibility.
The first IWC in Latin America – a continent plagued by disastrous colonial endeavors – intends to reverberate the local tension between the expansion of a mode of life and the covering-up of the other, in the apt phrase of Enrique Dussel.
Call for Papers
Scholars are invited to submit papers for the conference, which is divided into the following sections:
Whitehead, speculation and contemporary metaphysics
Whitehead, aesthetics and the philosophy of creativity
Whitehead and modern philosophy
Whitehead and Ecological Civilization: Ecology, Ethics, Economics, and Law
Whitehead, Mathematics, Logic, and Natural Sciences (Informatics/Cosmology/Physics/Biology/Chemistry, etc.)
Process thought and feminism
Whitehead and continental philosophy
Whitehead and Eastern philosophies
Amerindian animism and process thought
Process philosophy in Latin America
Whitehead and theology
Whitehead and Education
Abstracts of 400 words outlining your proposal are due March 31, 2019.
For more details about the call for papers and where to submit them, go here
Young Scholars Award (under 35 years old)
There will be two Young Scholars Awards. The winners will be announced  on the IPN website. The award includes airfare and conference fee for the 12th International Whitehead Conference in Brazil, as well as publication of papers in the conference proceedings. The papers should be prepared for anonymous evaluation (with the data about the author on a separate sheet) and should be submitted electronically at the following e-mail address: dzhadiaiev@windowslive.com.
Please follow and like us: