The looming ecological crisis will affect cultures and societies around the world and, by extension, the world's religions. Because religion can play such a vital role in individual and community life, interreligious solidarity on the work of ecological civilization is a worthwhile task. How will religious worldviews be affected by the increasing focus on transitioning to sustainable practices? In what ways can the world's wisdom traditions inspire and guide this global transition?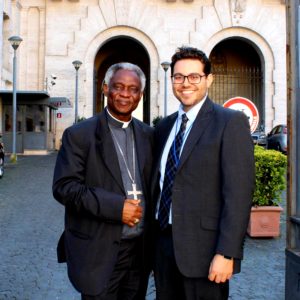 One of the most prominent figures arguing for fundamental societal change is the charismatic religious leader Pope Francis. As detailed in his famous 2015 encyclical, Laudato Si', Pope Francis is calling all humans (Catholic and non-Catholic alike) to care for the poor and the earth because the wellbeing of both are inseparable. To "Care for Our Common Home," includes not only environmental wellbeing, but also social and economic wellbeing. As Pope Francis notes, "We are faced not with two separate crises, one environmental and the other social, but rather with one complex crisis which is both social and environmental. Strategies for a solution demand an integrated approach to combating poverty, restoring dignity to the excluded, and at the same time protecting nature." In May 2018, EcoCiv Executive Vice President, Andrew Schwartz, attended a gathering on spirituality and sustainability in Rome and Assisi. This included a visit with Cardinal Turkson and members of the new Dicastery for Promoting Integral Human Development at the Vatican, which is tasked with promoting the comprehensive vision of Laudato Si'. During that time, Andrew become increasingly aware of how the Vatican is a natural ally to those working toward ecological civilization. To this end, EcoCiv pursued...
Read More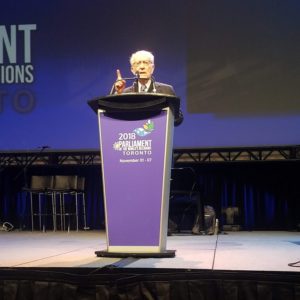 This November 1-7 in Toronto, over 7,000 people from around the globe gathered for the Parliament of the World's Religions, the largest and oldest interfaith gathering of its kind. The Parliament included six tracks, each with its own three-hour assembly session, on Indigenous Peoples, Women in Religion, Climate Action, Justice, Countering War, Hate & Violence, and the Next Generation. We at EcoCiv had the distinct pleasure of planning and implementing the Justice Assembly and cultivating many of the breakout sessions included in the Justice Track. Organized into three parts or movements, the assembly focused in the first hour on understanding types of injustice and the interconnection among them. In the second hour, we discussed reconciliation and how reconciliation might look in the face of an unjust past and present. Philip Clayton leading a panel discussion during the Justice Assembly with thousands in the audience. Finally, the third hour moved toward action and concrete change for a more just, peaceful, and sustainable world. Each movement of the assembly included a multi-sensory approach, with panelists from around the world (and particularly from the global south) sharing their own experiences and expertise, artists painting live on stage, and performers offering spoken word and musical...
Read More