History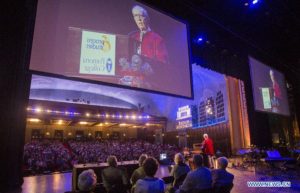 The Institute for Ecological Civilization (EcoCiv) emerged out of the vision of John B. Cobb, Jr. A leader in ecological thinking, Cobb wrote the first single-author book in environmental ethics—Is It Too Late? A Theology of Ecology—in 1971. The book argued for the relevance of religious thought in approaching the ecological crisis.
Under the leadership of Cobb, a professor emeritus of Claremont Graduate University (CGU) and Claremont School of Theology (CST) and a founding co-director of the Center for Process Studies (CPS), the Center for Process Studies organized an ambitious conference in 2015. The conference title, "Seizing an Alternative: Toward an Ecological Civilization," stressed transdisciplinary efforts to re-envision various sectors of society through an ecological lens.
Philip Clayton and Wm. Andrew Schwartz were selected to lead the new initiative—called "Toward Ecological Civilization" (EcoCiv)—the conference sparked. The first EcoCiv event, "Ecology of Community," was held later in 2015 and co-sponsored by CPS, Pando Populus, and the Environmental Analysis program of Pomona College. During that event, EcoCiv interviewed leading theorists in the field and drafted a roadmap for action.
By the end of 2015, EcoCiv submitted their Articles of Incorporation to the State of California for a Nonprofit Public Benefit corporation named "Toward Ecological Civilization." The Articles were accepted and formally filed by the State. Later, the group was approved for 501(c)3 status.
In Fall 2018, the EcoCiv Board approved a name change from "Toward Ecological Civilization" to "Institute for Ecological Civilization," which was largely motivated by making it easier to translate the organization's name into the languages of our partner organizations—especially Mandarin and Korean.
Since 2017 EcoCiv has actively partnered with organizations such as Forum 21, People for Earth Forum, the Land Institute, the Parliament of the World's Religions, and the Center for Earth Ethics.  EcoCiv works internationally, regularly holding conferences and convenings in South Korea, China, the United States, and (in 2019) South Africa.