International Forum on Ecological Urban Development and Regeneration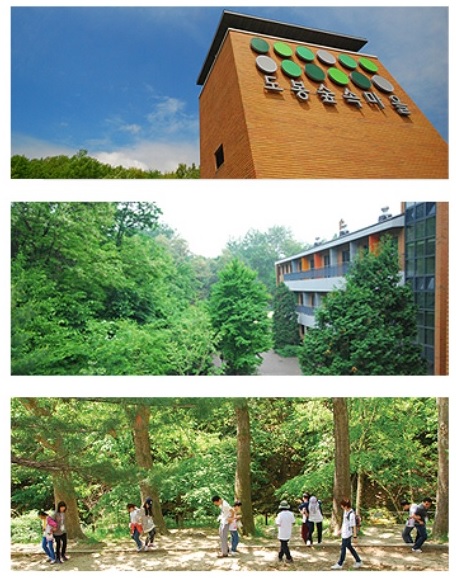 PURPOSE
Korean society has been rapidly urbanized since 1960s. As more than 80% of Korean people are living in urban areas, South Korea is the highest urbanized country in the world. In particular, the four cities in the Northeast that have a long history as a residential area in Seoul have undergone urban decline (86.4% of urban decline exceeding 65.9% of the nation and 79.4% of Seoul average). Therefore, not only The urban regeneration projects that rebuild the citizens' residential zones have implemented in various places, but also the economy-based urban regeneration project, so called 'Changdong-Sangye Project' to develop this area into one of the economic hubs of Metropolitan Seoul.
Meanwhile, the environmental problem indicated by global climate change is becoming increasingly serious, exacerbated by the rapid overpopulation of cities and the various urban activities that degrade the natural environment — including the use of fossil fuels and various chemical substances, contaminated waste emission, and deforestation. The sustainability of urban residents' health and livelihoods are directly threatened by grave challenges such as yellow dust, heat waves, and highly pathogenic virus infections such as the avian influenza.
Thus, an ecological reorientation is essential for the future of the city. There is an urgent need for a paradigm shift away from the current urban development model of modern industrial society, which forces an arbitrary choice between economic and environmental concerns and demands environmental crisis as the price for economic growth. The overall direction of urban regeneration in response to decline must also be an urban generation guided by ecological values. The economic urban regeneration project in progress within the Northeast Four Boroughs must also proceed in a manner that increases the long-term sustainability and resilience of the megapolis of Seoul.
The Northeast districts contain a beautiful natural environment, and has a history of successful local community participation and cooperation. On the other hand, this region has also long suffered from the neglected and inadequate infrastructure and economic stagnation. In that regard, the regeneration of the Northeast Four Boroughs must accomplish two-fold tasks: increase ecological sustainability of the region at large, while also improving the residents' economic opportunities.
The 2018 Seoul International Forum on the Northeast Four Boroughs shares these principles, and offers an opportunity to propose and discuss visions for the direction and strategy for the Northeast Fourth Borough regeneration. The forum will proceed in two parts. The first half, "Ecological Urban Regeneration" International Forum," will introduce the national trends in urban ecological transition, and discuss those strategies and paths most appropriate for the characteristics of the region. The second part "Workshop on Gevernance, Resilience & Local Empowerment" will discuss governance for ecological city regeneration, community participation and empowerment, as well as the potential for international correspondence and collaboration.
TENTATIVE SCHEDULE
12:50~13:00 | Registration
13:00~13:10 | Opening Ceremony & Musical Performance
13:10~13:20 |  Welcoming Address Beom Park (Head of Seoul NE Area Public Project)
20:10~20:30 |  Keynote Speech 1 Big History and the Era of Coexistence :
Sunghwan Kim (National Congressman)
[Session 1]: Toward an Urban Ecological Transition
13:40~14:10 |  Keynote Speech 2 Key Elements of Ecological Civilization: Locality and Resilience: David Korten
14:10~14:35 |  Presentation 1 Ecological Transition and Urbanism: Andrew Schwartz
14:35~15:00 | Presentation 2 Sustainability, Urban Development, and Regeneration: Case Studies in China, Germany, and the U.S., Zack Walsh
15:00~15:45 | Discussion and Q&A
Chair: Gunna Jung (Professor, Hanshin University)
15:45~16:00 | Break & Networking
[Session 2]: Ecological Regeneration of Northeast Four Boroughs of Seoul
16:00~16:20 | Presentation 1 Urban Regeneration Policy and Ecological Transition
Taewon Park (Urban Planning, Kwangwoon University)
16:20~16:40 | Presentation 2 Urban Regeneration and the Future of the N.E Seoul
Jaekyung Lee (former Seoul City Council Legislative Adviser)
16:40~17:00 | Presentation 3 Strategies for Sustainable Development in the N.E Seoul
Suncheol Jung (Head, Northeast Seoul Center for Urban Regeneration and Local Collaboration)
17:00~17:45 | Round-table Discussion Chair: Giho Yi (Professor, Hanshin University) David Korten, Andrew Schwartz, Zack Walsh
2) 2018 International Workshop on Governance, Resilience & Local Empowerment
Chair: Giho Yi (Professor, Hanshin University)
[LOCATION CHANGE]
19:20~19:30 | Registration
19:30~19:50 | Presentation 1 Civic Engagement in Urban Regeneration, YI Kiho (Professor. Political Science, Hanshin University)
19:50~20:10 | Presentation 2 (one of (1) or (2) will occur) Seoul's Experiments of Democratic Governance for Local Resilience:
Jinah Seo (former head of Seoul City Department of Village community)
Strategies for Local Grassroots Empowerment : Sanghun Lee (Seoul City Councilor)
20:10~20:30 | Presentation 3 Comparison of Grassroots Participation & Civic Engagement between China and S. Korea
Dongkun Ye (Professor. Chinese Studies, Bukyung University)
20:30~20:45 | Break
20:45~21:45 | Round Table Discussion Round Table Discussion on Governance, Resilience and Local Empowerment (China, Japan, U.S. and S. Korea):
Chair: Sunghoon Kim (President, Samyang Citizens' Alliance)
Giho Yi, Suncheol Jung, Dongun Ye, Ken Kitatnai, Marc Los Huertos,
Please follow and like us: