A Decade to Make a Difference
November 5, 2021 @ 9:00 am

-

November 12, 2021 @ 5:00 pm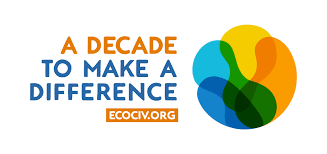 A Decade to Make a Difference:
Making A Difference by Changing the Way We Think & Teach
It is our conviction, and that of our partners, that society needs to change at a level far deeper than most people realize. Solar panels, electric cars, and carbon taxes get nowhere close to addressing the underlying causes of our complex social-environmental challenges. The interconnection of our world's biggest problems requires a paradigm shift—a transformation of our social and economic organization that is guided by a change in values and worldviews.  As reports from the United Nation's Intergovernmental Panel on Climate Change indicate, time is running short…we only have a decade to make a difference.
EcoCiv Korea is launching "A Decade to Make a Difference" conference series on the urgent need for civilizational change. This year, our two-day international conference will focus on making a different through religion and education. The event will be fully online via Zoom with simultaneous translation. The first day will focus on "Religions and Higher Education for Ecological Civilization," while the second day will focus on "Ecological Transition Education and Food."
Below is a schedule outline. Details on speakers and panelists forthcoming.
All times listed are Seoul Time. Simultaneous translation (English and Korean) will be provided unless otherwise noted.
November 5: Making A Difference Through Religious Education
9:00-9:20 Keynote: John B. Cobb, Jr. "A Decade to Make a Difference: The Urgent Need for Civilizational Change"
9:20-9:30 Audience Q&A
9:30-10:20 Morning Dialogue Part 1 What Can Religions Do to Make a Difference?
10:20-10:40 Audience Q&A
10:40-10:50 Break
10:50-11:40 Morning Dialogue Part 2 Religious Education: Uniting University and Church for Civilizational Change
11:40-12:00 Audience Q&A
Day 1 Concludes
November 12: Ecological Transition Education and Food
9:00-9:20 Keynote: A Decade to Make a Difference
9:20-9:30 Audience Q&A
9:30-10:20 Morning Dialogue Part 1 Education for Ecological Civilization
10:20-10:40 Audience Q&A
10:40-10:50 Break
10:50-11:40 Morning Dialogue Part 2 Climate, Food, and Education for Sustainable Development
11:40-12:00 Audience Q&A
12:00-2:00 Lunch Break
Afternoon Sessions: Korean Language Only (No Translation)
2:00-2:20 Plenary Talk Heeyeon Cho, Superintendent for Seoul Metropolitan Office of Education
Afternoon Dialogue Part 1 From Organic Free School Lunch to Climate School Lunch
3:00-3:30 Audience Q&A
3:30-3:40 Break
3:40-4:40 Afternoon Dialogue Part 2 Round Table with Students
4:30-4:50 Audience Q&A
4:50-5:00 Concluding Remarks for Day 2
Please follow and like us: