Agrifood Systems: Moving Beyond Binaries
The newly launched Agrifood Systems Program supports localized partners who are working at the intersection of socially equitable and ecologically-rich food and agriculture systems, and connecting them to global resources and knowledge. An intersectional approach to equity and ecology as well as food and agriculture is crucial in moving beyond traditionally binary thinking focused only on sustainable food production or only improving food access. EcoCiv views agriculture and food as intrinsically linked and approaches these systems in tandem. 
At its most basic, agrifood systems encompass the entire process of agriculture production, processing, distribution, consumption, and waste management. However, mapping the agrifood system can quickly become incredibly complex, as seen in the visualization below.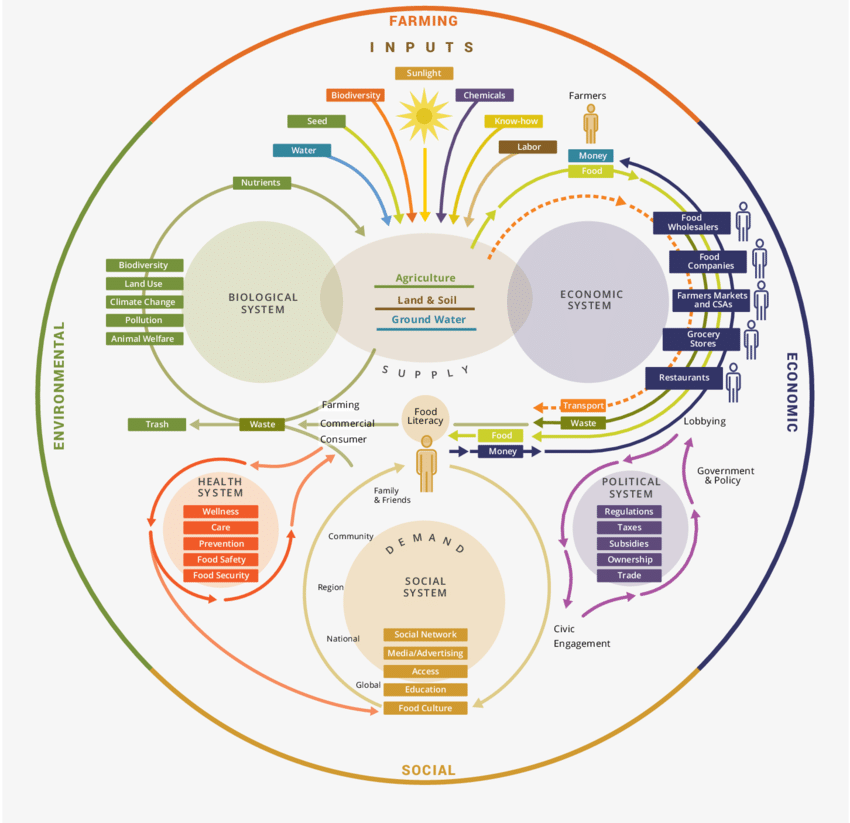 The map above illustrates that while agrifood systems are composed of particular nodes for say, agriculture production and food supply, each of these nodes is contained within economic, social, and environmental systems. One can see how integral and interconnected the agrifood system is to the way land and water resources are utilized and managed, the health and wellbeing of people and communities, and what types of foods and agriculture production systems our political and economic systems incentivize.
Targeting interventions within agrifood systems present enormous possibilities for transitioning to an ecological civilization. There are inspiring examples across the world such as Vandana Shiva's working at the intersection of seed sovereignty and gender rights in India and Michael Hoffman's approach to shifting the climate resiliency of agrifood systems through dietary changes.
How EcoCiv catalyzes agrifood system transformation
EcoCiv firmly believes that larger agrifood systems transformation begins with localized efforts that can scale and replicate to other locations. As such, the AFS program focuses on three areas:
Incubating food system solutions

that integrate both social equity and ecological principles that are presumed to be high-risk, to prove that investments in similar food and agriculture projects are effective and can have a return on investment,

Combining localized priorities and knowledge

with global expertise and resources to yield long-term, sustainable, and resilient food system initiatives,

Targeting agrifood systems initiatives

at specific leverage points that can lead to global systems change.
As the EcoCiv team, we are excited to be part of the emerging effort to shift agrifood systems for the wellbeing of people and the planet and we invite you to join us. Future AFS projects will continue to integrate ecological principles and social justice goals with significant potential for scaling and replication.
Learn more about the Agrifood Systems program here.
Written by: Kate Munden-Dixon
EcoCiv Project Manager and Researcher
Please follow and like us: