Farming: Turning Protectors into Providers
Play the video for a short introduction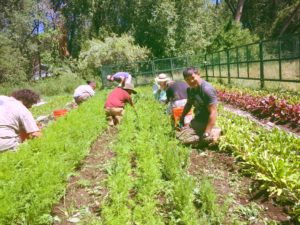 "My job used to be to take life, and now it's to create life."  It's hard to come back from Iraq and take a 9-5 job. But to put your hands in the soil and to make things grow — this is healing. Veterans to Farmers brings crops to life and people back to life. Many take what they've learned from organic farming and begin to teach others the same methods.
Read about these communities of veteran-farmers who are working the land, leaving war behind and cultivating their way toward ecological civilization.
---
An Interview with Richard Murphy, Program Director, Veterans to Farmers
A Bit of Background
What is your mission statement?
Mission Statement: The mission of Veterans to Farmers (VTF) is to provide access to education, experience, and training for veterans in the disciplines of urban and rural agriculture techniques.  This includes hydroponics, aquaponics, traditional organic farming, homesteading skills, and business operations.
Vision Statement: The organization culture and curriculum allows for a decompression zone where veterans can assimilate effectively back into civilian life, creating potential for a well-suited livelihood through a permanent source of sustainable income, community, and contribution.
How long have you been in operation?
Veterans to Farmers was founded in 2011 by Buck Adams, a U.S. Marine Corp. Veteran and the Executive Director of the organization. We became active as an organization in 2013 and started training in 2014.  Currently in our second year, we have trained 80 veterans to date.
Who are the key members of your team?
I came on board as Program Director in 2014 as a volunteer and started teaching in 2015.  I had been in contact with Veterans to Farmers since 2013, was looking to farm myself and was thrilled to find an unexpected opportunity.
There are 2 other staff, soon to be 3.  Joe and Daryl, both graduates, help train new veterans and are board members.  We also have a few active volunteers.
Do you have a board of directors/advisors?
Yes, we have a great board, consisting of five members, including the two staff mentioned above.  It is our first year actively working with them.
What inspired the Founder, Buck Adams, to start this organization?

In 2009, Buck, a social entrepreneur, recognized the business opportunity for growing food in the greenhouse industry in Colorado and established Circle Fresh Farms.  Within 3 years, Circle Fresh Farms turned 12,000 square feet of greenhouse into 5 acres of greenhouse space for growing, becoming the largest organic greenhouse grower in Colorado.
In 2011, Buck made it a personal and business initiative to train and hire fellow veterans.  After successfully training 6 veterans, the word quickly got out about the program.  With over 300 eager participants, Adams realized that the interest from veterans was much greater than he anticipated.  He responded by developing a model/training program leading to business ownership and founding Veterans to Farmers.
Greenhouse growing turned out to be very beneficial for the veteran community.  Greenhouse farming is a very calming environment; it's quiet, with running water, surrounded by living plants.  It requires some of the same skills such as being willing to pay attention to detail on a very high level.  And veterans are used to having physical on the job combined with classroom training.  It's a great fit for some of the veterans who were not going to fit well into normal 9 to 5 jobs.
There is an opportunity in farming, and in other veteran-run programs to reduce the staggering number—22 veterans a day—who commit suicide.
As one participant in the Veterans to Farmers program said, "My job used to be to take life, and now it's to create life."
---
A Look at Their Successes and Challenges
What do you consider your biggest success?

Testimonies from veterans about their experiences allow us to judge the impact we are having… and are a great driver of motivation for us.  After training at Veterans to Farmers, our veterans have gone on to run a 100% solar indoor hydroponic farm in North Colorado; own a pecan farm in Texas; help run an upcoming Farmers Market; own a successful food truck company that sources local ingredients; be awarded a 6-month veteran internship for aquaponics in California; work full time for Denver Botanic Gardens; start a non-profit; receive the Future Organic Farmers Grant, awarded by University of Colorado at Denver (UCD), to continue studies in Sustainable Urban Agriculture; and enroll in a yearlong Marine engineering course to design floating farms.
Our community relationships have been a huge success.  It has really made us recognize that there is a civilian side to this that wants to help.  In the beginning, we were very veteran-oriented and only had veterans on our board.  We worked within the veteran community very thoroughly and were very plugged in there.  Being able to start opening up to the civilian sector and have relationships with places like Denver Botanical Gardens where a group of civilians are training veterans for the first time.  This exchange is opening up communication on both of our parts in a way that would otherwise not have been possible.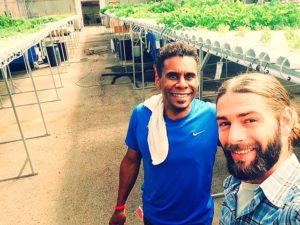 What are the immediate and long-term goals you want to achieve?

Immediate: We need to enhance our fundraising and grant efforts so that we can continue to operate, as well as pay stipends to the veterans participating in the programs.
Long-term: I own 35 acres in Fort Collins with 24 raised bed gardens. Our goal is to turn this into a veteran homestead where we can train veterans in wheelchairs to farm and work with plants, etc.  We have bees, chickens, hogs, etc. and want to use this as our training site for Northern CO and WY.  We hope to get money for housing and to hire a Veteran Farm Manager.
To continue to expand the training programs through partnerships with other local farms.
What do you consider your biggest challenges?

We are really good at what we do, teaching veterans to farm.  Our biggest challenge is funding, to stay funded in a way that allows us to help veterans out in the way we want to.  It is a challenge to keep the ball rolling and keep from burning out.  We need to increase our grant writing capacity.  If we could hire more people, we could "rotate ourselves out" for a bit.
We need to create more support for out of state veterans.  There is a huge demand but insufficient resources.  One of our greatest needs is for temporary housing for out of state veterans while they are in training.
How do people find out about your organization?

People mostly have found us through web searches and social media outlets… We also have a newsletter that goes out quarterly.
My first year I went to every veteran event in the state to get the word out about us.
Food and farming are two subjects about which people in general are passionate, and there has been a great deal of interest among the veteran community.  I was surprised recently to get a call from a guy in Korea who heard about us in a de-briefing.
Where has your funding come from in the past?
What other organizations do you partner with?  Are there any others you would like to work with?

Colorado State University. Through a USDA grant in partnership, they developed a very comprehensive curriculum for us that we use to teach veterans. We also offer all of our graduates a CSU certificate of completion into the programs.
Denver Botanic Garden. DBG teaches the veterans organic, soil-based farming, along with small-scale community supported agriculture (CSA) classes.  This is a 10-week course with both classroom and time in the field as well as food stands and deliveries.
Rebel Farms – Controlled Environment Agriculture (CEA). Basically growing in a greenhouse and hydroponics. This is a 8-week course , the veterans do hands-on and classroom work for 15 hours a week in the greenhouse– processing, harvesting, changing the nutrients and generally operating the greenhouse.
Upstart University, an e-learning platform educating farmers of all growing styles to plan, build, and operate their own farms, is another optional component of the training program at Veterans to Farmers.
Mental Health Center of Denver and Colorado Aquaponics. This is our newest partnership.  Starting this October will be a 10 week course that will cover the CEA course as well as an introduction and hands on of the growing of fish with crops – Aquaponics.
Other than financial, what type of support do you need?

Help with spreading the word to let more veterans know about us.
Like us on Facebook.
We need volunteers to work on the website, newsletter, publicity, communications, grant writing, etc.
Find any veteran cause about which you are passionate and support it
Is there an organization that you particularly admire?

Farmer-Veteran Coalition. We know the Founder, attend their conferences and think they are doing a great job supporting farmers and food leaders in the veteran community. Buck sits on a committee with him formed to lobby the government to make changes to the Farm Bill and GI Bill allowing for greater access to monies to veterans wanting to farm.
If you had a direct line to top government offices (e.g., the president/governor/mayor/city council), what would you tell them?

I would tell them to make sure they support small farmers, including veteran farmers; it is an expensive and risky proposition to buy land and equipment as a small farmer.
The 2014 Farm Bill is not enough.  Farmers need local and federal support.  Put your money where your mouth is.
Food is the number one thing that matters.  We can't rely on the food system the way it is.  It is not a long term answer.
Support the organizations trying to make the needed changes to our food system.  Reach out a hand of support. Don't just pay lip service.
What is your best piece of advice for other eco organizations?

"Stay motivated and true to what you are doing.  Take care of yourself in order to take care of other people."
"Don't give up on your purpose yet allow change to naturally help shape the outcome.  The universe never lets it happen just the way you expect.  Muster down and believe in what you are doing and let it do its thing."
---
Wrap-up Questions
What have you learned from your work?

"I got started in this work because I wanted the opportunity to train vets and work in the field with them.  I am an Air Force Veteran myself and had my own issues.   I found that it was a healing environment not only for them but also for me in a way I did not expect."
"We saw a need in our community that a pill was not going to fill.  Twenty-two veterans commit suicide every day." Clearly a different approach is needed.  We see farming and other veteran-run programs as opportunities to reverse this reality and create a positive impact.
What would you like the broader public to understand and appreciate from your experience so far?

We are all in some way connected to this cause—on the food side (we all need food), the veteran side (we are veterans, family, friends and neighbors of veterans, etc.)
The best way to help the cause is to support our local farmers.  Shop at a farmer's market!  Support a CSA!
If you have a skill set, whatever it is, volunteer to help.
If you have a business, hire, train or support a veteran looking for a renewed sense of purpose.
---
Press Release (PDF)