An Ecological Civilization on the Ground in Claremont, California
Play the video for a short introduction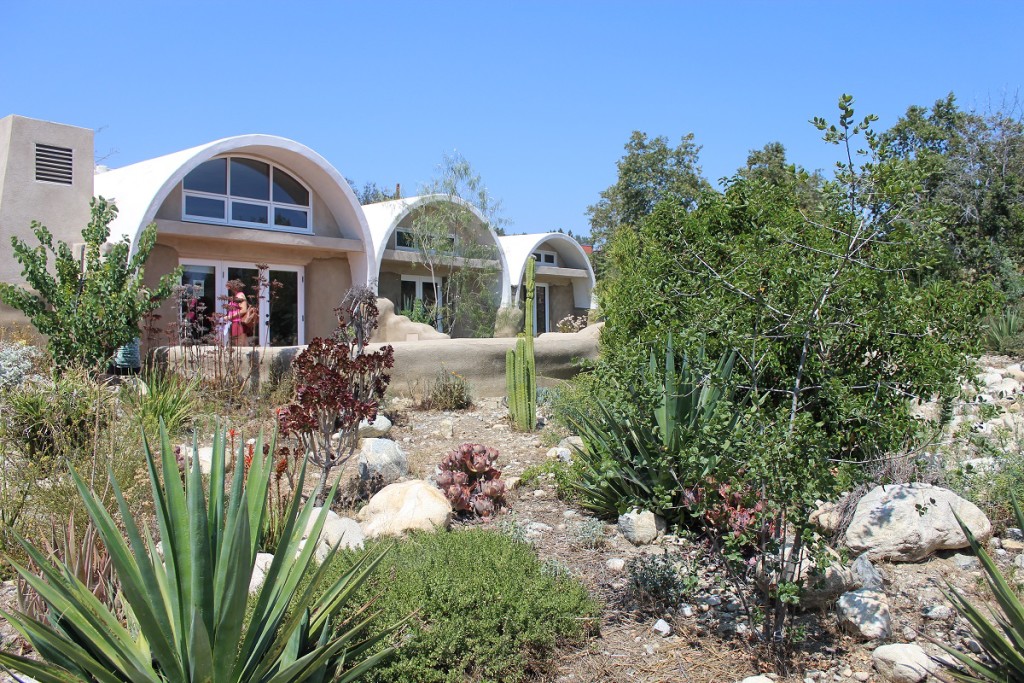 If you could hold a crystal ball in your hands and see the vision of an ecological civilization encapsulated in one place, it might look like Uncommon Good. Founder Nancy Minte's holistic full-circle ecology includes a college mentoring program for underprivileged elementary, middle, and high school children, it manages over 50 plots of land that provide organic food – and employment – for the community, and it provides medical school debt relief for young doctors who tend to the very same families that are trying to lift their children out of poverty by sending them through the Uncommon Good education program. And this tiny earth-centered metropolis operates out of a beautiful, hand-made, solar-powered, mud-construction building tucked behind a Methodist church on a site originally occupied by Tongva Indians.
Nancy Minte has gotten her arms around the idea of an ecological civilization, and a visit to her website and a look at the interview below will provide insight, encouragement and healthy dose of optimism for the rest of us.
---
An Interview with Nancy Mintie, Executive Director, Uncommon Good
A Bit of Background
What is your mission statement?

The mission of Uncommon Good is to create a model for a society in which the basic human needs of all can be met in a healthy environment. To do this, it has established the following objectives:

To break the intergenerational cycle of poverty through education.
To help ensure access to quality healthcare for all.
To feed the hungry and provide healthy food for the larger community.
To create living wage jobs for the poor.
To demonstrate how communities can build safe, comfortable, affordable and environmentally friendly homes and buildings for themselves.
What are your primary programs or services?
How long have you been in operation?
Do you have a board of directors/advisors?

Yes, we have a board with 20 members.

What inspired you to start this organization?

I wanted to help the poor and the planet.

What did you do prior to starting Uncommon Good?
---
A Look at Their Successes and Challenges
What do you consider your biggest success?

As our mission statement says, breaking the inter-generational cycle of poverty for the families that are moving through our programs – and so far we have sent over 100 kids from the depressed neighborhoods of the Pomona Valley on to college.

What are the immediate goals you want to achieve?

Finding the funding to keep the programs alive – we don't have an endowment, so I have to raise the million-dollar budget from scratch every year.

What are the long-term goals you want to achieve?

I'd like us to be a mini-model of an ecological civilization – a closed energy loop – so that we keep renewing the environment for the next generation.
What do you consider your biggest challenge?

It's always funding – there are lots of non-profits that rose up with the tech bubble, but in the crash the funding dried up. More entities are now trying to divide up the same lima bean, so to speak. We are a very holistic model, and most people don't understand yet that we need an ecological civilization, where we address problems from multiple angles. People still think of a charity focused on a single issue – but the problem is bigger than that. There is more urgency, so the solutions need to be more dynamic.

What is your most immediate challenge?
What is your biggest long-term challenge?

A lack of understanding at every level – government, foundations, and the individual donor community. They don't understand the need to transcend the old models of what a non-profit should look like and how it should operate.
How do people find out about your organization?

Word of mouth in the community – we are a living community, and people are clamoring to participate – they want the programs, but these are the same people who can't support the programs. We also get some exposure from social media, from writing proposals, and speaking engagements.
Where does your funding currently come from?

Mostly private foundation grants – there aren't many government grants for what we do.
What other organizations do you work with?

Local colleges, churches, school districts, the rotary club, chamber of commerce, and a wonderful and engaged retirement community called Pilgrim Place.

What other organizations would you like to work with?

The LA Food Policy Council, and of course more foundations – but you need a personal relationship to get foundation work started. Sending "cold-call" grant proposals is impossible – especially for places like the California Endowment, Packard Foundation, Irvine Foundation, Rockefeller…
Other than financial, what type of support do you need?

"We always need more volunteers to mentor our kids. We need more tutors. And we need more people to come buy our vegetables. We also need more people of stature and means to serve on our board. Of course we also need a bigger, more consistent donor base.
Is there an organization that you particularly admire?
If you had a direct line to top government offices, what would you tell them?

The president, governor, mayor

Give some support money to the emerging non-profit models, not the big, hide-bound models that currently get all the funding. We also need educational debt relief for people who want to go into public service: doctors, ministers, teachers, legal aid lawyers, metal health specialists – students who have taken on huge debt to help society. I mean, how do you make the kind of sacrifices that non-profit work requires when you have so much debt? And we need help gluing together the best parts of the non-profit and for-profit model to create better community organizations.

Your city council

I'd ask for letters of support for my grant proposals.
What does the term "ecological civilization" mean to you?

A closed loop energy system for everything from soil, to water, energy – everything needed for human life – like nature's system is. And that includes a serious look at population growth – this planet can't support unlimited growth. An ecological civilization also requires people who are educated as global citizens – not just to break the poverty cycle, but so that they can deal with the overarching problems of our age.
What is your best piece of advice for other eco organizations?

Our efforts will come to naught if there isn't an evolution of consciousness – we have to bring higher consciousness to our own work.
---
The Big Picture
What have you learned from your work?

It's really true that love is the most powerful force in the universe – it's just what I've learned from a lifetime of experience.
What would you like the broader public to understand and appreciate from your experience so far?

Creating an ecological civilization that ensures a just and happy life for every person is a work of great joy.